He's a madman, a Satanist, a drug-fueled alcoholic who bites heads off of bats and doves and is a terrible influence on generations of fans. The name Ozzy Osbourne means different things to different people. To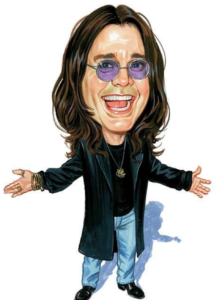 the uninformed, many of these pejorative terms are accurate in their minds. But to millions of fans around the world, we know him as a loving husband and father, who over the decades has continued to be reflective in his music as to his mistakes of the past, his love for his family and fans, and his concern about the future of this planet and the following generations that will inhabit the earth. Does that make Ozzy sensitive and ordinary?
by Vin Ruiz – December 20, 2020
8 min Read or listen to the Audio Narration on this page
Does Ozzy write his own lyrics?
In Rock & Roll circles, much discussion has been had as to whether Ozzy writes his own lyrics. Let me be upfront. I know that Ozzy does not write all of his lyrics and frankly I don't care. Did you think that all famous singers, past and present, have written their own lyrics?
Those of us from Generation X, knows there's a long list of singers from all genres of music that performed and sang hit songs that they did not write. Just to name a few, Frank Sinatra, Elton John, Roger Daltrey (The Who), Geddy Lee (RUSH) and nearly the entire Motown roster of artists who employed songwriting teams that competed against each other to write hit songs for The Temptations, The Four Tops, The Jackson 5 and Diana Ross and the Supremes amongst others. Even the King of Rock and Roll, Elvis Presley, didn't write his own lyrics.
Ozzy's Musical Contributions
Don't misunderstand me, Ozzy has written some lyrics and co-written certain songs over the years, all the while contributing concepts and ideas for songs with his bandmates and co-writers. Just as with other artists, Ozzy is able to find the soul and emotion of the lyrics and sing it as if he wrote it himself. That's the genius of Ozzy.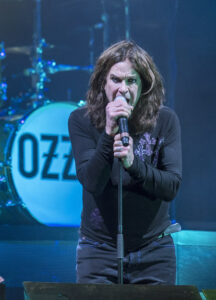 He's admitted himself, that he's not the greatest singer. But there's something unique and completely identifiable about his voice. When he sings, you know, THAT'S OZZY! Even his former bandmate and legendary guitarist of Black Sabbath, Tony Iommi, has stated that Ozzy has an amazing ability to sing a melody line over any riff or guitar part.
As a guitarist and singer/songwriter myself, I can attest to the fact that coming up with a vocal melody line out of thin air can be very difficult and challenging. But even though Ozzy may not have written the lyrics to all of his songs, I still connect with them because he can sing a great melody with emotion and conviction. And that's what touches the heart and soul of his fans worldwide.
Photo Credit: "Zakk Wylde and Ozzy Osbourne @ 2018 Copenhell" by acase1968 is licensed under CC BY-NC-ND 2.0
The Sensitive Side of the Madman
While many of Ozzy's songs are loud, hard rock, heavy metal songs, including fan favorites and classics such as, "Crazy Train", "Flying High Again", "Diary of a Madman", "Bark at the Moon", "Shot in the Dark", "No More Tears" and others, there is another side to Ozzy Osbourne. A more sensitive and reflective side. Yes, news flash, Ozzy Osbourne is a human being!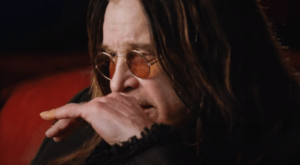 And just like all of us, he's made many mistakes and bad decisions during his life that he regrets, which has factored into the lyrical ideas for his songs.
If it's a song about broken relationships with friends and family ("Changes" and "Goodbye to Romance") then we can relate.
If it's a song about the environment ("Revelation (Mother Earth)" and "Dreamer") we can be inspired to act and make a change for the future of this planet.
If it's a song about the death of a loved one ("See You On the Other Side") each of us understands the pain of loss and grief.
If it's a song about being reflective and looking back at our entire life to see what we've accomplished or not ("Running Out of Time" and "Ordinary Man") then we can also relate as we ourselves are getting older.
Photo Credit: Ozzy Osbourne "Ordinary Man" video
Changes: from the 1972 Black Sabbath album "Vol. 4"
Goodbye to Romance: from the 1980 album "Blizzard Of Oz"
Revelation (Mother Earth): from the 1980 album "Blizzard Of Oz"
Tonight: from the 1981 album "Diary Of A Madman"
Mama, I'm Coming Home: from the 1991 album "No More Tears"
See You On The Other Side: from the 1995 album "Ozzmosis"
Dreamer: from the 2001 album "Down To Earth"
Running Out of Time: from the 2001 album "Down To Earth"
Here For You: from the 2007 album "Black Rain"
Ordinary Man: from the 2020 album "Ordinary Man"
From this list of songs, here are two Ozzy Osbourne videos that I encourage you to watch which will definitively pull on your heartstrings.
Dreamer: As of the writing of this article, "Dreamer" from Ozzy's 2001 album, "Down To Earth", has over 64 million views on YouTube. Ozzy himself has stated it's his tribute to the 1971 John Lennon classic, "Imagine".
Ordinary Man: The title track of Ozzy's 2020 album, "Ordinary Man" has already garnered over 8 million views in just a few months.
Ozzy Osbourne – The Soundtrack to the lives of Generation X and Beyond
To many of us fans who grew up in our teens and 20s, listening to Black Sabbath and Ozzy's solo material, he truly provided a soundtrack to our lives. As the decades have past from the 70s, 80s and to the present, Ozzy's music has meant so much to so many people.
While watching the 2020 A&E Documentary film, "Biography: The Nine Lives of Ozzy Osbourne", you're struck by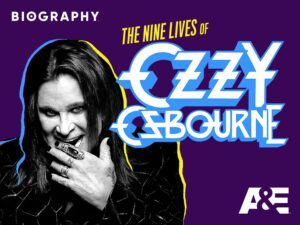 how Ozzy's music has changed musical history and affected the lives of generations of fans over the past 50 years. During the film many music artists were interviewed. Here are a few notable quotes on what Ozzy and his music has meant to them.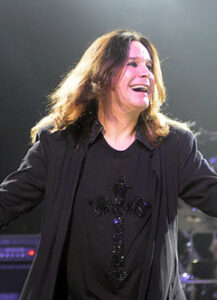 Mega-producer Rick Rubin: "I don't know what music would be like if it weren't for the influence of Ozzy. It's everywhere. Ozzy changed everything."
Marilyn Manson: "He's one of the only people that smiles on stage."
Rob Zombie: "He always has a huge smile on his face and that is so infectious."
Jonathan Davis (lead singer of Korn): "He's the godfather of metal… I respect him as an artist and he really gives his all for his performances to give the fans something that they want."
Post Malone: "I'm 23… and I think Ozzy's music is timeless. It makes me cry and gives me the chills. It's just perfect."
Photo Credit: "Ozzy Osbourne @ Citibank Hall" by Portal Focka is licensed under CC BY-ND 2.0
"The Osbournes" Reality TV Show exposes Ozzy as an Ordinary Man
Many will say that Ozzy is no ordinary man. And that's true on several levels. But the world outside of heavy metal music realized that Ozzy Osbourne is indeed an ordinary man while he and his family were being filmed during the hit MTV reality series "The Osbournes" which aired 52 episodes over four seasons from 2002 – 2005.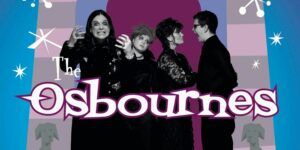 Some fans took exception to how Ozzy's scenes were edited to make him look like a buffoon. Such as when Ozzy didn't know how to work the TV remote control or how to make microwave popcorn. No doubt many of us have had similar experiences. But the main thread throughout the series was how much Ozzy loved and cared for his family, which is something that all of us can relate to.
Learning About History with "Ozzy & Jack's World Detour"
Another TV series that depicts Ozzy as an ordinary man is, "Ozzy & Jack's World Detour" which aired 28 episodes over three seasons on The History Channel and A&E. Personally, I really enjoyed this series because as a history buff myself, I completely related to how much Ozzy and his son Jack love history.

Each episode follows the adventures of Ozzy & Jack, and sometimes Ozzy's daughter Kelly, in an RV traveling to different sites and locations around the U.S. to learn about the background and sometimes unusual circumstances behind its history. A definite must-see for heavy metal history fans.
God Bless Ozzy Osbourne
The 2011 documentary film, "God Bless Ozzy Osbourne" is another portrait of who Ozzy is from the perspective of his son, Jack Osbourne, who co-produced the film. "I was essentially fed up with my dad having this Osbournes-esque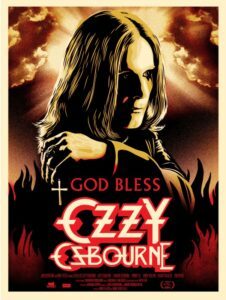 image in the mainstream media," he explains. "That really frustrated me. Since 'The Osbournes' (reality TV show) he got sober and became a totally different person, and I wanted to kind of celebrate that. Everyone knows what he's done, so for me this was about more who he is as a person. The focus is not so much Ozzy as it is John. That's the story I wanted to tell."
I remember seeing this film in a theater at a special screening in Los Angeles and I truly enjoyed the film and highly recommend it for any Ozzy fan.
Ordinary Man – Ozzy's Swan Song?
But in the end, it's all about the music.  When Ozzy released his latest album in 2020 called "Ordinary Man", I have to honestly say, as a lifelong Ozzy fan for over 40 years, sadly I am not a big fan of this album. I've listened to it about five times from beginning to end and there were a couple songs that grew on me.
But the stand out song, for me, on the whole album is the title track, "Ordinary Man". The song is a slow rock ballad with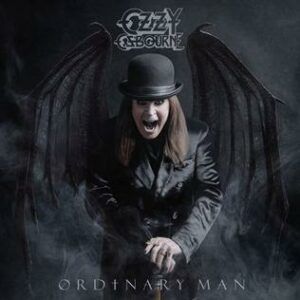 orchestration, which features Elton John on piano and singing the second verse. But I believe watching the video really helped me to enjoy this song more and more. The video features Ozzy sitting in a movie theater watching film scenes from his entire life on the road and scenes of black and white pictures of him and his family growing up.
In addition, you see old concert and home video footage of him with Black Sabbath and his solo band, in addition to rare Randy Rhoads pictures and video clips. It's while watching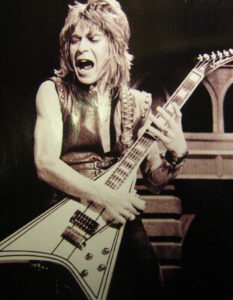 pictures and video of Randy that you see Ozzy put his face in his hand because he's so emotional. (Randy Rhoads, Ozzy Osbourne's original guitarist and songwriting partner, tragically died at age 25, in a plane crash while on tour March 19, 1982). I truly believe if Ozzy released just this one song and video, it would have been the perfect swan song to an amazing music career.
The chorus of the song sums up Ozzy's feelings:
"Yes, I've been a bad guy
Been higher than the blue sky
And the truth is I don't wanna die an ordinary man
I've made grown men cry
Don't know why I'm still alive
Yes, the truth is I don't wanna die an ordinary man"
Photo Credit: "Classic Randy" by rick is licensed under CC BY 2.0
Reflecting On and Learning from the Past
Reflecting on Ordinary Man song lyrics gives each of us pause. Looking back on our lives, we may feel that we've done some bad things in life and have made some poor decisions that have led to instances where we have essentially cheated death.
As life has moved on though, we may feel that we are simply ordinary men and women. But in the wake of hundreds of thousands of people losing family and friends in death to the most serious health crisis and pandemic to affect our generation, we must realize this… none of us are ordinary. Each and every one of us are extraordinary to someone. I end this article with the same comforting words I've personally heard Ozzy Osbourne say many times in concert for decades, "God bless you all".
Peace, Love and Music my friends!
Vin Ruiz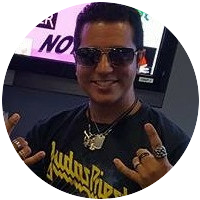 Vin Ruiz is a graduate of the Guitar Institute of Technology at Musicians Institute in Hollywood, CA. Vin performed in several bands throughout the late 80s and early 90s as a professional guitarist, singer and songwriter. He transitioned to work as a high level Director of Operations in the advertising and marketing industry for nearly two decades. Vin also created and hosted his own internet show called "Name That Riff" for 2 seasons while concurrently working as the Creative Director and host for the "Keep It Metal Radio" program. Currently Vin is the creator and co-host of the internationally popular "Lipstick and Leather – Heavy Metal, Hard Rock, Glam podcast" which can be heard on all major podcast platforms.