"I don't get it! The name of the channel is MTV, Music Television, why don't they show music videos like in the 80s?" That's the usual response when Gen Xers, like myself, reminisce about the classic, pioneering days of MTV. But was MTV in the 80s the best decade for music? Let's find out by traveling back in time and relive my own 80s MTV experience!
by Vin Ruiz – December 14, 2020
8 min Read or listen to the Audio Narration on this page
Photo by Chris Benson on Unsplash
Preparing for the MTV Music Revolution
I was one of the fortunate ones to see the launch of MTV on August 1, 1981. I had a cousin in Bridgeport, CT that had a strange cable setup that allowed access to New York and New Jersey cable programs. Cable TV access was like the wild west in those days. If you knew someone that knew someone else who knew a cable tech guy, you basically could get any cable channel you wanted for free. So when I heard about a new music video channel launching, I had to be there to see it. I was only 13 years old, so I had to arrange for my parents to allow me to stay over my cousins house for the weekend, which was perfect since MTV was launching Friday night (technically Saturday morning at 12 midnight) August 1, 1981.
The Night MTV Launched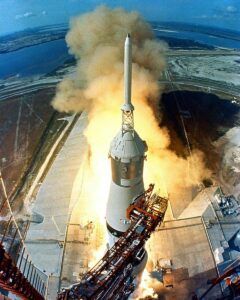 Watching the countdown to midnight was exciting for a music nerd like myself. Once the clock struck midnight and the Apollo 11 rocket launched, those famous words were uttered, "Ladies and Gentlemen, rock 'n roll." Now being that I was a hard rock and heavy metal kid who grew up on the best classic rock music of the 60s and 70s, of course I was hoping to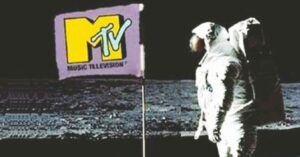 see a video from any of my favorite bands.
In the first hour I sat through videos of songs that I had never heard of before like, The Buggles, "Video Killed the Radio Star", Cliff Richard, "We Don't Talk Anymore" and Robin Lane and the Chartbusters, "When Things Go Wrong". But I also saw videos for songs that I had heard on the radio a bunch of times like, Pat Benatar's, "You Better Run", REO Speedwagon's "Take it On the Run" and "Rockin the Paradise" by Styx.
The Unbelievable Moment
Then the unbelievable happened. About 1 hour into the MTV launch, after watching a sleepy video called "Sailing" by Rod Stewart, I saw the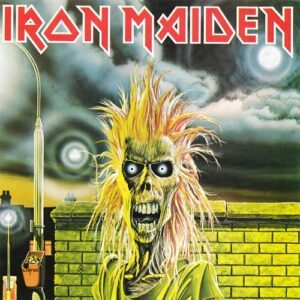 first ever heavy metal video aired on MTV. They played a song called "Iron Maiden" by the band Iron Maiden. It was around 1 o'clock in the morning and I was wide awake and fired up! "Oh my god, it's Maiden!!", I said in a whispered shout so as not to wake up my relatives. It was a live concert clip from their Killers '81 tour with Paul Di'Anno as the original lead singer. Yup, that did it. I was officially hooked on MTV throughout the 80s.
Exposed to the Gen X Soundtrack – "80s New Wave"
Seeing videos of bands and artists that I had only heard on the radio and seen in still photos in magazines, was mind blowingly awesome. It was like experiencing my own personal concert. I loved MTV so much that when I got home from school, I immediately turned on my little 13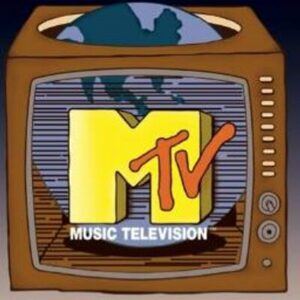 inch color TV in my bedroom and it played in the background while I was doing homework or cleaning my room.
I am so grateful that MTV exposed me to so much new music that I would have never heard of before, mainly the top New Wave bands from England like:
Modern English
Depeche Mode
Soft Cell
Psychedelic Furs
Eurythmics
The Human League
New Order
Thompson Twins
The Cure.
Of course, there were certain British videos that made a definite impression on me.
Duran Duran, Flock of Seagulls and The Fixx Strike a Chord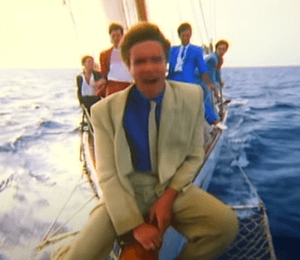 The video for "Rio" by Duran Duran was so cool that it transported my mind as to what it would be like to vacation on a beautiful island in the Caribbean. I loved the tropical setting with the band sailing on a boat and a bunch of good-looking girls in colorful body and face paint (by the way, what was it with MTV and video directors using painted girls in a ton of those early videos?!?). But it was Duran Duran's music that resonated with me. I loved the fast, funky bass line and the distorted guitar swipes down the neck of the guitar.
But there were other 80s New Wave bands that also struck a chord with me like Flock of Seagulls and their videos for "I Ran" and "Space-Age Love Song" as well as The Fixx and their videos for "Red Skies", "Stand or Fall" and "One Thing Leads To Another". Both bands had cool electric guitar and keyboards with catchy songs that I liked and still listen to this day.
Photo Credit: Duran Duran – Rio (video)
Early Iconic 80s MTV Videos
But there were certain videos that became iconic, and four decades later, whenever I hear a certain song, my mind flashes back to watching the video on MTV. So let's play a little game.
What comes to your mind when I say Devo? Right away, I bet you're thinking of the video for "Whip it", with the band wearing those weird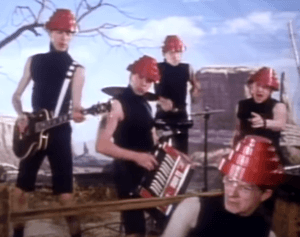 red upside down flower pots on their heads and the unforgettable cracking of the whip.
How about Eurythmics? I bet you remember,  "Sweet Dreams (Are Made of This)" and seeing the androgyny of Annie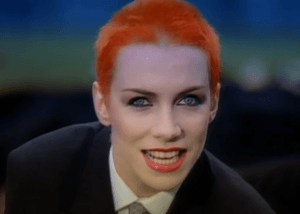 Lennox with an orange buzz cut wearing a men's suit and tie. It was so different. I had never before seen a woman blur the lines between masculine and feminine. All the while listening to this amazingly beautiful voice.
Speaking of different, which video truly pushed the boundaries of gender confusion by Culture Club? Aha! You're thinking of the video for "Karma Chameleon". Is it a man or a woman? The mass population of society in general hadn't seen anything like Boy George. And many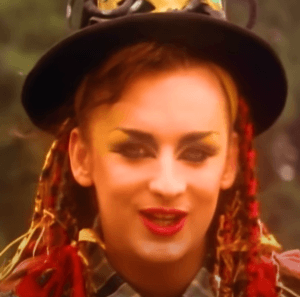 conservative parents at the time were outraged that he or she is on TV prancing around in front of the innocent eyes of their children. One thing is for sure, many news programs and especially daytime talk shows like Phil Donahue, Sally Jesse Raphael and Oprah provided a medium to discuss this major shift in cultural attitudes towards sex and the freedom of expression.
Photo Credit: Devo – Whip It video
Photo Credit: Eurythmics – Sweet Dreams (Are Made of This) video
Photo Credit: Culture Club – Karma Chameleon video
The Most Famous MTV Music Video of All Time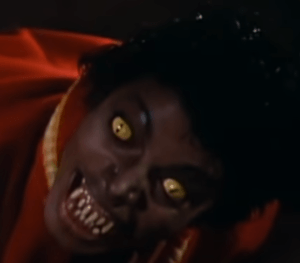 But probably the most famous and influential music video of all time, according to MTV, VH1, Time magazine, the Library of Congress, and fans around the world, is Michael Jackson's "Thriller". In 2009, the video was even inducted into the National Film Registry as culturally, historically and aesthetically significant.
I clearly remember the buzz surrounding this video / mini movie. MTV was constantly promoting the specific time of the next showing of "Thriller". That way people would call their friends and gather people around the TV just to watch this nearly 14 minute video. Along with the documentary film, "Making Michael Jackson's Thriller" by John Landis, the video left an indelible print on pop culture history.
The Legacy of the Zombie Dance
Jackson's zombie dance in his red leather outfit is so iconic that an annual event, since 2006, called "Thrill The World" is held on the Saturday preceding Halloween where individuals and dance groups around the world gather together to perform the famous zombie dance, all while collecting food, clothing and charitable donations for such causes as the prevention of cruelty to children, animal aid as well as to the victims of earthquakes and California wildfires.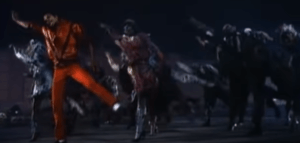 The zombie dance was even featured in the Jennifer Garner retro-80s hit film, "13 Going on 30". And if you're wondering, one of the two red leather jackets worn by Michael Jackson in the "Thriller" video was auctioned in 2011 and it sold for $1.8 million! Without a doubt, Michael Jackson's "Thriller" changed pop culture and revolutionized music video production from then on.
Photo Credit: Michael Jackson Thriller video
"Headbangers Ball" Brings Heavy Metal to the Masses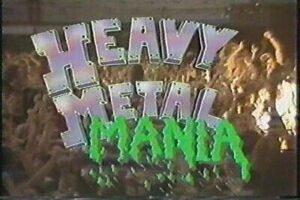 Finally on April 18, 1987, after two years of a small show called "Heavy Metal Mania" hosted by Twisted Sister's Dee Snider, which only aired once a month for one hour, MTV could no longer deny the massive popularity of Heavy Metal music, and "Headbangers Ball" was launched as a weekly 90-minute show on Saturday nights. In my opinion, it was one of the best 80s MTV shows.
I remember Kevin Seal and Adam Curry as a couple of the early "Headbangers Ball" hosts trying to be "metal". But it was clear that these guys were so NOT metal. It made more sense when Riki Rachtman was hired as the host in 1990. He had the rock and metal credibility because he owned a hard rock club in Los Angeles, called the Cathouse, that frequently hosted shows by Faster Pussycat and Guns N' Roses. But I didn't care either way.
Partying with Headbangers Ball
I was watching to finally see a few hours of continuous heavy metal videos generally while partying with friends on a Saturday night. Yes, most of the videos aired were those commercial friendly radio singles by the best heavy metal bands of the 1980s like Motley Crue, Van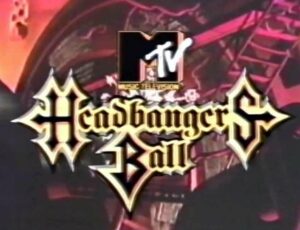 Halen, Scorpions, OZZY, Bon Jovi, Poison, Judas Priest, Twisted Sister, Ratt, Dokken and Cinderella. But there were those few videos that began showing up more and more that were done by more aggressive, darker and heavier speed metal and thrash bands like Metallica, Anthrax and Megadeth.
Metallica Releases Their First Ever Video
I'll never forget seeing on "Headbangers Ball" the very first video ever done by Metallica for the anti-war song "One" from their 1988 album "… And Justice for All". The tone was set right away by the video being filmed in black and white. With the sounds of gunfire and warfare fading into the background, along with a slow and melancholy guitar intro, the mood was set for one of the most hauntingly, epic heavy metal videos of the 1980s.
The concept of the song and video is based on the 1971 film, "Johnny Got His Gun", in which scenes from the movie are interspersed throughout the video showing a wounded soldier who was maimed by a landmine leaving him in a military hospital with no sight, no hearing, no arms and no legs, all while trying to figure out how to communicate with the hospital staff to allow him to simply die.
The song builds back and forth from slow, melodic verses to heavy distorted guitars with no definitive chorus. Midway through the song, a full out metal assault kicks you in the face. A combination of Lars Ulrich's rapid-fire double bass drums and the machine gun guitar riff played in unison by James Hetfield, Kirk Hammett and Jason Newsted provide a sonic blast of thrash never before heard on MTV or anywhere else.
"One" was Metallica's breakout track and video and became an international hit reaching #35 on the U.S. Billboard Hot 100 chart. Music fans throughout the planet were now poised for Metallica's world domination to come in a few short years in the early 90s.
Enjoying the Present by Reliving the Past
I'm a person who has no problem deriving enjoyment in the present by reliving the past. There's something cathartic about reminiscing on youthful nostalgia. Being a part of the original MTV generation in the 80s opened my eyes, ears and mind to the sights, sounds and messages from different cultures and musical genres. And for that I will be forever grateful.
If you were to ask me if MTV in the 80s was the best decade of music, without hesitation I would say, "Yes!". And so would millions more like myself agree to that exclamation. I feel I was born in the right place at the right time. I lived my entire teenage years during the 1980s and experienced firsthand generation x music history.
If you did as well, then consider yourself fortunate to have lived during a glorious time that will never be repeated. And for those of you born as Millennials or Gen Z, maybe you learned about the 1980s music scene from your parents or grandparents. Consider yourself lucky, because by means of a Google search and YouTube, you have access to history and the world at your fingertips. Enjoy your journey in discovering the 80s MTV experience.
While researching this article, I found myself watching so many great videos that were huge 80s MTV hits. Here's my list of the 25 Most Memorable Classic 1980s MTV Videos.  I know you'll love it and you just might even have a flashback heart attack!
Peace, Love and Music my friends!
Vin Ruiz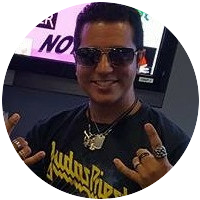 Vin Ruiz is a graduate of the Guitar Institute of Technology at Musicians Institute in Hollywood, CA. Vin performed in several bands throughout the late 80s and early 90s as a professional guitarist, singer and songwriter. He transitioned to work as a high level Director of Operations in the advertising and marketing industry for nearly two decades. Vin also created and hosted his own internet show called "Name That Riff" for 2 seasons while concurrently working as the Creative Director and host for the "Keep It Metal Radio" program. Currently Vin is the creator and co-host of the internationally popular "Lipstick and Leather – Heavy Metal, Hard Rock, Glam podcast" which can be heard on all major podcast platforms.