If you've never created a YouTube playlist before or it's been a while since you've done it, here's a detailed refresher in 4 easy steps. These instructions are for using a mobile device, although the instructions are very similar if you're creating a playlist on a computer.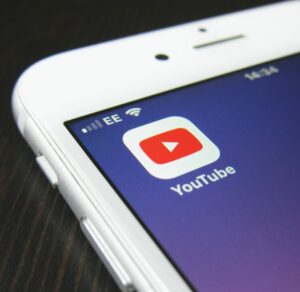 Photo Credit: Hello I'm Nik 🎞 on Unsplash
Click the Artist/Song hyperlink to a video you want to include in a YouTube playlist. The YouTube app will open and your video will begin playing. Or go directly to the YouTube app and select a song or video.
Under the video you will see several icons for Thumbs Up, Thumbs Down, Share, Download and +Save. Click the "+Save" icon.
Once "+Save" has been clicked, a check mark will show indicating "Saved" and a pop-up will appear asking, "Save video to …". Then click "+NEW PLAYLIST". Another pop-up will appear titled "New Playlist" asking you to create a Title for your playlist. The Privacy view is defaulted to "Private" so that only you can see this playlist. No one else on the internet will be able to search and find this playlist. You also have the option to make your playlist "Public", where anyone can search and view the playlist you have created. However, you will need to create a YouTube channel if you have not done so already.
From now on, whenever you watch a video and click the "+Save" icon, a pop-up will appear at the bottom screen of your mobile device saying, "Saved to recent playlist", with the Title of your playlist. You also have the option to click "Change" to the right side in the pop-up in order to save the video to another playlist. Or you can change the playlist at any time by simply clicking the "Saved" icon and a pop-up will appear with a list of other playlists that you have created. The icons to the right side indicate the Privacy view of each playlist. A "padlock" icon indicates this a "Private" playlist that only you can view. A "round globe" icon indicates you created a "Public" playlist for anyone on the internet to search and find this playlist for their viewing pleasure.
Peace, Love and Music my friends!
Vin Ruiz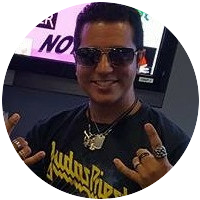 Vin Ruiz is a graduate of the Guitar Institute of Technology at Musicians Institute in Hollywood, CA. Vin performed in several bands throughout the late 80s and early 90s as a professional guitarist, singer and songwriter. He transitioned to work as a high level Director of Operations in the advertising and marketing industry for nearly two decades. Vin also created and hosted his own internet show called "Name That Riff" for 2 seasons while concurrently working as the Creative Director and host for the "Keep It Metal Radio" program. Currently Vin is the creator and co-host of the internationally popular "Lipstick and Leather – Heavy Metal, Hard Rock, Glam podcast" which can be heard on all major podcast platforms.