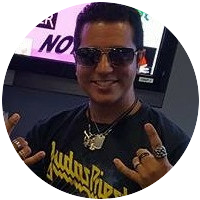 Hi everyone, my name is Vin, and welcome to GenXOurSoundtrack.com. Music has always been a passion of mine and indelibly imprinted in my DNA since I was a child. Since my father and uncles were guitar players and singers, I was always around recorded and live music, albeit Spanish folk music. I loved the sound of the different instruments and the melodies and harmonies to these well crafted songs that affected my emotions. I realized at a very young age … the power of music! Then one day, the landscape of my musical world changed and my excitement shifted into overdrive.
My Musical Journey
I grew up in the small New England town of Naugatuck, Connecticut. One day in the summer of 1976, a new elementary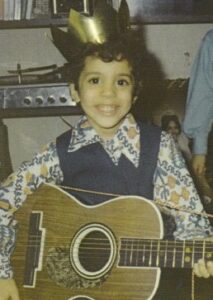 school friend invited me over to his house to play. We were in his room and he grabbed a vinyl record, put it on the turntable and placed the needle down on Track 1 on Side B of the album "Dressed to Kill" by KISS. And the sound of the first few chords of "C'mon and Love Me" reverberated in my ears and I was immediately hooked on rock and roll.
Throughout my elementary, middle and high school years I devoured rock music of all kinds. I would save my allowance and paychecks to buy records and cassettes by KISS, The Doors, Jimi Hendrix, The Beatles, AC/DC, Pink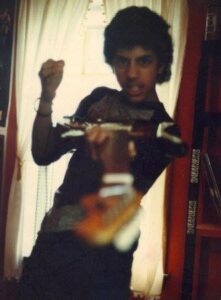 Floyd, Led Zeppelin, Judas Priest, Black Sabbath, OZZY, Iron Maiden, DIO, Scorpions, Metallica, Ratt, Queensryche, Twisted Sister and the list goes on and on.
I bought my first electric guitar in 1983 and quickly learned to play my favorite rock and heavy metal songs. Then I formed and played in a couple of bands in high school. After graduating high school I continued playing in bars and clubs with different bands. Not only did I love the sound of making music, but I also loved the happiness that I would see on peoples faces in the audience while they would sing along with their favorite songs.
This is what I wanted to do with my life. I felt drawn towards entertaining people from stage and bringing them a sense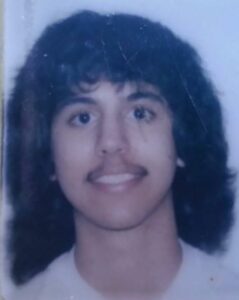 of happiness through music. But Connecticut was not necessarily the rock and roll capital of the United States. So I moved to Hollywood, California in February 1990 to attend the Guitar Institute of Technology at Musicians Institute. I immediately fell in love with L.A.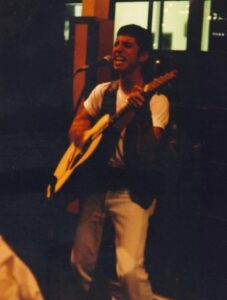 After graduating, I played solo acoustic gigs in coffee houses emulating the ever-changing popular musical landscape of alternative music of the early 90s. Then one day in 1995, I received a call from a friend that MCA Records was holding auditions for a new artist. I picked up a cassette tape of three songs to learn in two days. When I arrived for the audition, I quickly knew this was a big deal. There were Marshall stacks for the guitarists, Mesa Boogie amps for the bass players and a beautiful drum kit on a riser for the drummers. When it was my turn, I walked in and saw three "suits" at a table in the back of the room and in front of the stage I met a young 20-year old girl by the name of Alanis Morissette. She had just finished recording her yet unreleased album "Jagged Little Pill" and was looking for a touring band. I played my heart out and sang background harmony vocals with Alanis on "You Oughta Know", "Unforgiven" and "Head Over Feet", and I saw in her eyes and smile that she was impressed. I had heard that I made several cuts to make the final round, but in the end I was not selected as her touring guitarist. Bummer! What next?
My heart longed to bring music to the masses. So I formed a rock band in 1995 and fulfilled a childhood dream of playing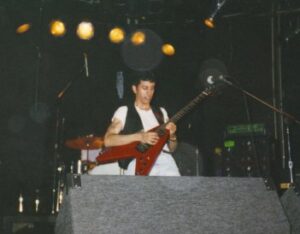 a number of gigs over the next year on the world-famous Sunset Strip at the Roxy, Whisky a Go Go and Viper Room. After limited interest and being broke and hungry for years, I finally called it quits on my musical profession in 1996.
I ended up in the corporate world, working nearly two decades in the advertising and marketing industry. However, throughout this time, I was always looking for a way to bring my musical passion to the world. The answer? … start a cool retro 80's music and entertainment website.
Our Mission
To bring enjoyment to the millions of music lovers around the world from our generation born between 1965 – 1980 known as Generation X, as well as Millennials and those from Gen Z who also love the music, entertainment and pop culture of the 1970s, 80s and 90s.
If you ever have any questions, comments or suggestions regarding site content, feel free to leave them below and I will be more than happy to respond.
All the best,
Vin
GenXOurSoundtrack.com